Written by General Manager Stephanie Horst
This article originally appeared in the November 2020 Cooperative Connections Magazine.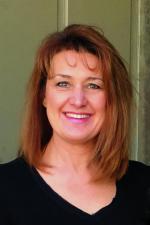 In my past few articles, I have been talking about rates and the different rate components. Last month, I addressed the facility charge, and this month I am going to talk about demand and consumption.
When speaking about electrical energy, there are two related, yet different, measurement parameters that need to be understood: consumption and demand.
Consumption is a familiar concept for most people. Simply put, it is the total amount of energy used over time. Demand is the immediate rate of that consumption.
A simple analogy is a pile of rocks of various sizes and weights. Say that you were moving the pile one rock at a time. The total weight of the rocks is like the consumption because it represents the total energy you would expend in moving it. The weight of the largest rock is like the demand because it represents how much power you would need to have "available" to move that one rock at that instant in time.
The electric meter records both energy consumption and demand. The amount of energy consumed is represented by kilowatt hours (kWh). The demand, or rate of consumption, is kilowatts (kW). Typically, electric demand is not measured for small services like an average residential customer. However, larger services are charged for both the energy used and how fast they use it. The faster the collective consumer base uses energy the more Bon Homme Yankton Electric must be able to supply.
The amount of energy Bon Homme Yankton Electric's system must be able to deliver to meet the instantaneous load (even if it is only for a short duration) is called its capacity. This concept is also used when designing an electric system or a building so that electrical distribution equipment is properly sized. The capacity of our distribution system must be able to meet the demand so no customers are deprived of their electricity. An under built system would be like when one too many roasters are plugged into a circuit in the church kitchen at the annual bazaar - eventually the breaker trips.
There is a lot more utility infrastructure needed to handle the demand requirements of some electric loads. Therefore, the demand component of the rate structure is important to evaluate. We are analyzing the load profiles of the different classes through our cost of service study to identify which load types should be charged both energy consumption and demand. We will keep you abreast of the developments of any new rates. 
With all things important, please exercise your right to vote on or by Tuesday, November 3rd. In doing so, challenge yourself and set aside your biased opinions of the candidates and/or political parties. Research the policies that each support and base your vote on that. Look past all the smoke and mirrors.
Until next month, be safe and healthy!