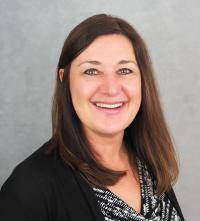 Stephanie Horst
On May 12, 2022, a storm with a 90-mile-per-hour wall of dirt, like those seen in history pictures of the dust bowl years, pummeled through our territory from south to north and continued north through Sioux Falls and into Minnesota. It was fast moving and powerful. In our area, the storm pushed a semi off the road south of Tabor, ripped off roofs, and even pushed structures off their foundations and flipped them over. 
By 4:30 pm the outage calls started rolling in and our employees were all hands on deck ready to restore power. Most of our crews worked until 3:00 am the first day, and by 6:00 pm the following day, power was restored to all our meters. 
Overall, B-Y Electric sustained damage of 18 broken poles and over 150 wire breaks from the strong wind and debris like trees, tin, and structures blown through them. This storm was unique because it caused damage across our whole service territory and was not isolated to one area. Even our power supplier, East River Electric, lost a lot of structures north of us, but they only lost a couple in our area which enabled them to restore our substations within a few hours. I commend our employees for a job well done, and especially done without an accident or injury. 
That is what they are good at daily. They work hard maintaining and constructing power lines to withstand storms with minimal damage. We are working in a time where members have high expectations of reliability. We appreciate the grace and patience given to us when you experience an outage longer than expected, like during this storm. It is our mission to provide safe reliable electricity on your distribution lines. 
Where we do not have control with reliability is how the power gets to us. This has caused some concern with recent news stories about rolling blackouts this summer. In a nutshell, this is due to more electricity needed at one time than there is generation to provide it.
B-Y Electric is in the SPP Regional Transmission Organization (RTO) which covers most of the Midwest south to the northern part of Texas. SPP is not expecting electric generation shortages and does not anticipate having to issue load shed requests, however, other RTOs are expecting generation shortages. The details explaining our power supply is on pages 12-13 of this issue. 
There are a few ways our members can stay informed about outages and energy emergencies. You can follow our Facebook page, go to our website, or better yet, sign up for text notifications. There is more information on page six about this new feature! 
One last thing, I already mentioned the dedication of our employees, but I want to draw your attention to members who dedicate their time on behalf of all members by governing B-Y Electric so that members have reliable and affordable electricity. These are the members that serve as directors on B-Y Electric's board. 
One of these dedicated directors passed away on May 25. Vert Voigt, 93, of Avon, served the B-Y Electric membership for 37 years. From 1971-2008, Vert attended 444 B-Y Electric board meetings and made decisions that impacted the continued success of our Cooperative. The commitment that directors and employees have is what keeps B-Y Electric dependable and reliable.
Have a safe Fourth of July! Our office will be closed on July 4th due to the holiday.